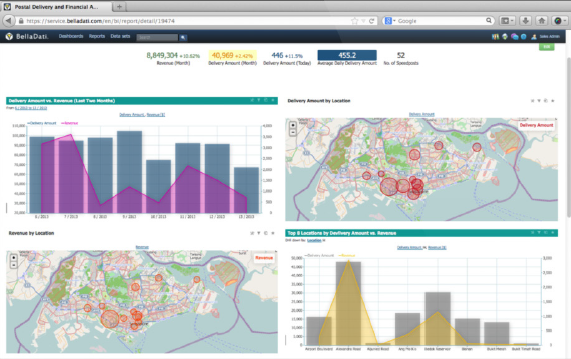 BellaDati Agile Business Data Analytics with a Human touch
Aquila Management is a Reseller for
BellaDati
.
BellaDati
is one the most advanced BI tool on the market. With BellaDati you don't need a report development or analyst team on site to produce your reports as many other leading BI systems do. This is the main reason why BellaDati has a very interesting customer base around the globe.
BellaDati BI has the most advanced human intuitive interface on the market, that is why everyone, sales persons or management without any BI reporting developer skills can create the most comprehensive reporting all by themselves through a few clicks. We call this coding free industry solution development. On exception analytical services may apply, but not as default. BellaDati can initiate a Proof Of Concept within a few days instead of months, this shows the amazing flexibility this BI tool has.
BellaDati is an agile analytics and reporting tool reinventing the way in which business users
interact with business data. Accessible via web browser or mobile device, data can be instantly visualized in beautiful reports and turned into eye-catching dashboards.
BellaDati offering includes both on premise and cloud BI application, platform, native mobile apps and BellaApps.
Agile Reporting
• Over 240 data visualization options via KPIs, charts and tables
• Location and region-based GEO analyses
• Adaptive data discovery layouts
• Predefined and custom conditional formats
• Built-in multimedia gallery for info graphics
Lean Analytics
• Single click data slicing, dicing and drill-downs
• Own formulas, functions and calculations
• Master/detail relations filtering with drill-through
• What-if analyses and scenarios modeling
Ultra wide Connectivity
• Over 100 database connectors with database discovery wizard
• Predefined connectors to social networks and SaaS applications
• Unlimited connectivity with API console
• Unstructured and Big Data support via MongoDB and Hadoop
• Visual ETLs, data transformations and cleaning
• Automatic import scheduling and notifications
BellaDati AGILE BI – All you need is web browser or mobile device.
Data Integration
• Over 100 connectors and API consoles
• Built-in data warehouse with visual ETLs
• SQL and No-SQL data store using PostgreSQL or Hadoop
• Build on Java technology and over 300 frameworks
• Scalability across multiple servers
• BIG DATA analysis within web-browser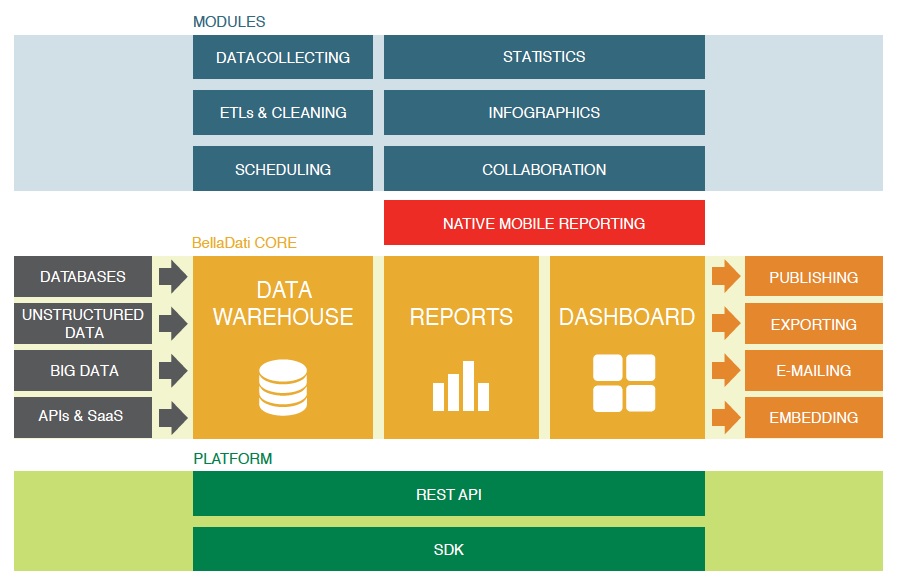 Mobile Reporting
• Browse library of online reports and dashboards
• Download data and browse in offline mode
• Apply filter, change scale or leave comments
Native apps for iOS and Android
• Easily download from Apple and Android marketplace
• Optimized and fully-featured mobile experience
• Online and offline mode supported
For more information or quotation, please make your request on our contacts form.