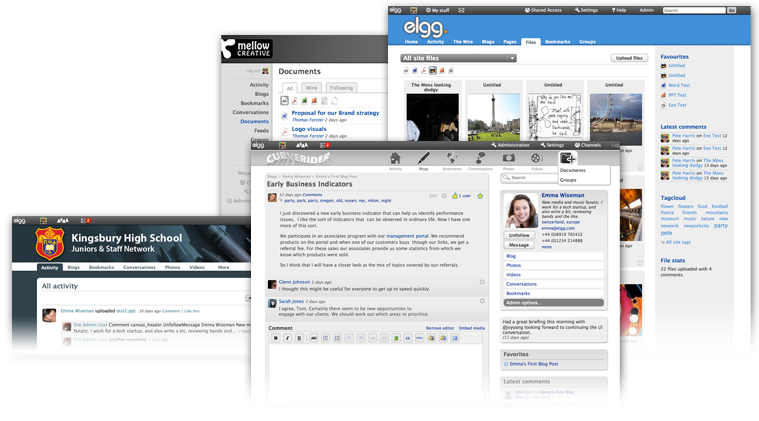 Enterprise private social network is offered via Aquila's premium partner Open Solutions
Enterprise Social Network is a private social intranet site for companies.
The current company intranets are not interactive. Intranet sites are dull and not resounding to the actual 2015 user interface everyone is used to.
Employees are used to be on Facebook or Linkedin as they love the social network interface because of its collaboration aspect. At company intranet sites the communication towards employees is one way directional.
In many cases employees collaborate on external company created groups on Linkedin, or company external blogs. Yammer.com is one example where most technical employees are collaborating outside of their company domain about company matters.
Many companies do not have any idea on how much confidential information is leaking via external social media by accident, which becomes more and more a security issue as social media is the only way employees can collaborate effectively.
Aquila Management in cooperation with its premium partner Open Solutions therefore developed the private Enterprise Social Network.
Departments within your company can create department "Groups" either restricted to its department or publicly accessible by anyone in the company to follow the posted communication.
For employees it will have the same collaborative experience as on Linkedin or Facebook and they can share everything they like within the companies borders as the solution is completely company private.
It can be used to share information of any kind, video's, presentations, pictures, documents etc.
Also news articles, blogs, youtube videos from outside the company can be easily posted, just like everyone is used to on leading social networks. But key is that all company information remains inside the company.
Keep your company information private, at the same time enjoy the internet 3.0 social network collaborative user interface for safely sharing information internally. This solution will not only make your security department happy!
The Social Enterprise Network platform can be purchased by enterprises as SaaS or on premise solution to provide your company with the most rich and comprehensive social network features available on the market. It can be optionally accessible via mobile devices (app).
Moreover, its all in house and secure for your confidential company communication.
Features at a glance:
Create groups and communities and invite them to discussion boards.
All content posted by members within the social network can be controlled by access restrictions and everything can be cataloged by keywords.
Allows you view the recent activity of contacts.
Share videos and other multimedia stuff.
Maintaining a blog where to post content and receive comments.
Bringing people together and generate good business opportunities and ideas: interact with users, add friends and exchange messages.
Micro blogging similar to Twitter where you can add followers.
Corporate Social Intranet typical clients:
Companies wishing to interact with their employees internally.
Governmental institutions and NGOs needing to be closer to their employees and the public.
Education Institutions wanting to connect with their students.
To have an impression, you can register for free on hookbiz.com, the largest B2B network and marketplace, to experience what you can expect for your own internal company social network in terms of functionality.