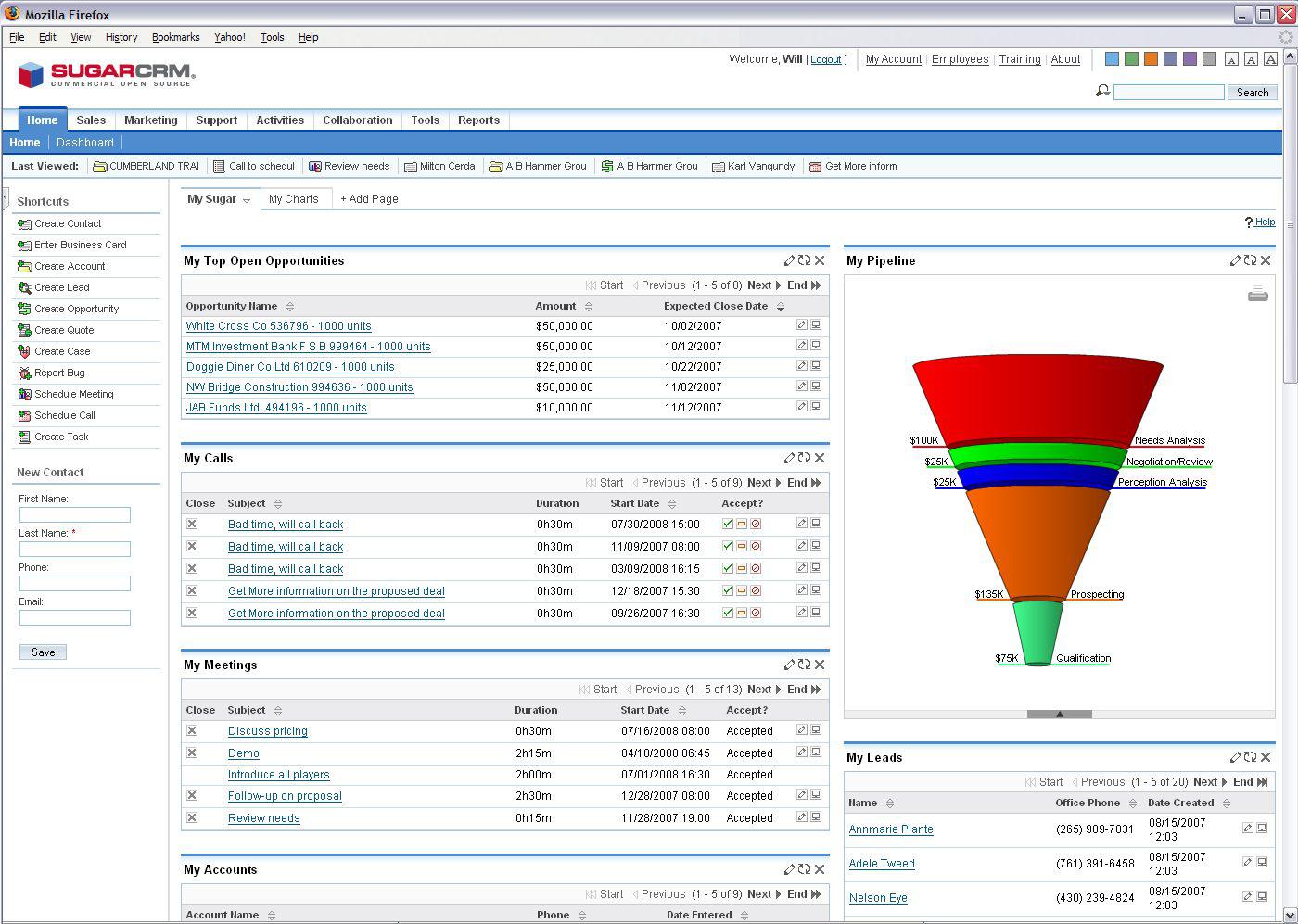 SugarCRM is offered via Aquila's premium partner Open Solutions an ISO 9001 certified Company
SugarCRM
is an open source Customer Relationship Management software and market leader, 100% web based, cross-platform, designed to manage the relationship with the customer throughout your company.
SugarCRM is an elegant solution to streamline and create business value while at the same time simplifying processes and life of your employees.
Sales reporting is real time available at the press of a button or on mobile devises with a tap on a screen.
Three main reasons to use SugarCRM
SugarCRM does not impose limitations. It's as flexible as reliable and efficient, and you can access it anywhere also from mobile devices via the SugarCRM apps.
SugarCRM is open source, strongly saving on the investment (CAPEX) and operational costs (OPEX), however your business is extensively gaining by almost unlimited customizable functionality.
SugarCRM is a renowned CRM system. SugarCRM is the most used CRM system in the world, awarded numerous times internationally.
Golden rule: Retaining an existing customer costs 5 to 10 times less than winning a new one.
What can I get with SugarCRM?
Goal 1: To have full knowledge on the client and get him involved with your company
Goal 2: Keep a permanent communication channel to create and sustain a relationship with customers, suppliers and company own employees.
Goal 3: Controlling business processes and people.
Goal 4: Increase sales performance.
Goal 5: Being more competitive and positively surprising your customers.
At Aquila Management we elected SugarCRM as the ultimate long term solution for customer retention. We know that a well executed tool parameterization is the most important factor to have an excellent operating CRM system. Therefore we are focused on functional requirements and you can count on us to structurize your way of doing business.
The extensive and full featured sales and marketing supportive features can be customised without mandatory upgrades or hidden fees. Sugar uniquely allows enterprises building end-to-end processes that help companies to focus on what matters most: making every customer relationship extraordinary.
For more information please request our SugarCRM white paper via the contact page.